Managing Director, SOTIRIA Technology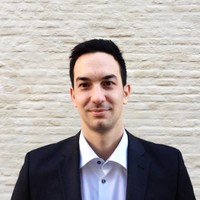 Angelos Tsereklas Zafeirakis studied Mechanical Engineering at the National Technical University of Athens and conducted his postgraduate studies in Business Administration at the Rotterdam School of Management. He currently works as Logistics Procurement and Sustainability Manager at the headquarters of Anheuser Busch Inbev (ABI), the world's largest beer producer (Stella Artois, Corona, Budweiser), in Leuven, Belgium. As part of this role, he is responsible for creating and implementing the company's pan-European Logistics Sustainability Road map. In the past he has worked as Supply Chain Specialist at Toyota Motor Europe and has publications in the wider field of green transportations (green shipping, green mobility, green logistics). In 2017 he was awarded the sustainability award by KPMG for his research in the field of intelligent charging of electric vehicles. He has been swimming champion with the teams of Triton Amarousiou, Ethnikos Piraeus and Glafkos Peristeriou as well as a member of the National Team.
Since January 2021 he is a member of the Board of Directors of the Hellenic Logistics Association.