Pharma Logistics Services Director - Pharmaceuticals SA Cooper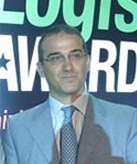 Born in Athens in 1973. He has studied packaging in Athens and holds a postgraduate degree in Marketing and Logistics from Coventry University (UK).
He is a graduate customs agent and in 2016 he obtained a postgraduate degree from the Athens Innovation University (Retail Innovation).
Ηe has been working for SARMED for almost twenty years as Logistics & Commercial Director, while he is a shareholder and a Board member in several companies.
During the period 2015-2017 he was a member of the BoD at Hellenic Logistics Company (EEL) and today he holds the position of Vice President of Finance.