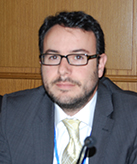 Dr. Vasileios Zeimpekis is an Assistant Professor at the Department of Financial & Management Engineering at the University of the Aegean and the Deputy Director of the DeOPSyS lab situated at the same University. Dr. Zeimpekis is also the President of the Hellenic Logistics Association (EEL), Member of the Hellenic Committee for the Development and Competitiveness of the Logistics sector and Executive Advisor at OPTILOG Advisory Services. He has served in the past as consultant in the United Nations (UNECE) as well as in the European Union (DG MOVE).
His research interests focus on Supply Chain Management with emphasis on Transport/Logistics operations & Information Systems. He has published 7 edited volumes in the management of Supply Chains and more than 100 papers and studies in academic journals and conferences. During the last twenty years he has participated in more than 40 research and 150 industrial projects. Vasileios is also a reviewer at the Hellenic General Secretariat of Research & Development, as well as at the European Union (DG MOVE). Dr. Zeimpekis is also member of various editorial boards and scientific committees in prestegious Academic Journals and Conferences.
Dr. Zeimpekis holds a BEng(Hons) in Electronic and Computer Engineering from the University of Essex (UK), an MSc in Mobile & Satellite Communications from the University of Surrey (UK) and an MSc in Engineering Business Management from the University of Warwick (UK). He earned his PhD from the Department of Management Science and Technology at the Athens University of Economics and Business (GR). Dr. Zeimpekis is member of the Technical Chamber of Greece, of the Economic Chamber of Greece, and the European Technical Chamber (FEANI).