Supply Chain – Quality Mgnt REGION EUROPE, BEIERSDORF MU – SOUTH EUROPE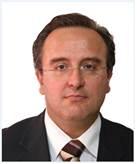 Stavros Kyriakoulias was born in Sparti and studied Mechanical Engineering (BSc, MSc) at the University of Manchester (UMIST).
Started his career overseas, gaining experience in an industrial environment of the Multinational Group Cussons International Ltd, holding the following positions: Project & Engineering Manager, Production Manager, Factory & Supply Manager.
Consequently, he continued his career as a member of the executive staff of Beiersdorf Hellas SA in the Engineering Division, the Plant Division and Materials Management and then served in Beiersdorf as Director of Operations, with responsibility for the Factory and the Logistics Division.
He continued his contribution to Beiersdorf Hellas as Supply Chain Director & GR Country HUB Manager, been responsible for managing the entire Supply Chain for the Greek subsidiary and the representation of the branch of the company Beiersdorf Customer Supply GmbH in Greece, as well as the participation in Pan-European Projects of the BDF Group.
Then assumed responsibility at Beiersdorf MU – Southern Europe as Supply Chain, Quality Safety/Health & Environment Manager – Southern Europe, responsible for Quality, Product Safety and Environmental Management of the SoE Region covering the countries of Greece, Italy, Spain, Portugal, Cyprus and Israel.
He currently continues working at Beiersdorf Europe as Regional Head of Quality Management – Europe, holding responsibility for Quality, Product Safety and Environmental Management of the entire Region covering all 42 countries of Eastern and Western Europe.
For a number of years, he is also Member of the Board of EEL – Hellenic Logistics Association.